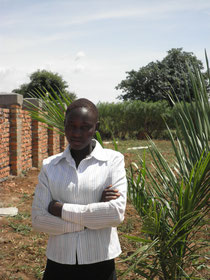 Adeke is 18 years old; she lost her parents because of HIV/AIDS. Also two of her younger brothers and sisters died. When she was in primary 5 she produced local brew in her village and sold it. So it was possible for her to pay tuition fees and also help her younger brothers. With this little money she could buy clothes, food, personal requirements for her, the brothers and her grandfather. She stays with her grandfather.
Adeke completed primary 7 in 2012, she was stuck and could not afford to pay tuition fees for any course and she had always wanted to study course in catering. With the support of TEPACYO Adeke studied in Uganda Martyrs Vocational Instituion in Soroti and graduated with certificate in December 2013.
Apart from tuition fees, TEPACYO also provided Adeke with personal requirements like clothes, school uniform, shoes, books, soap, sugar and cloth for practical lessons. We wishes her all the best for her future.